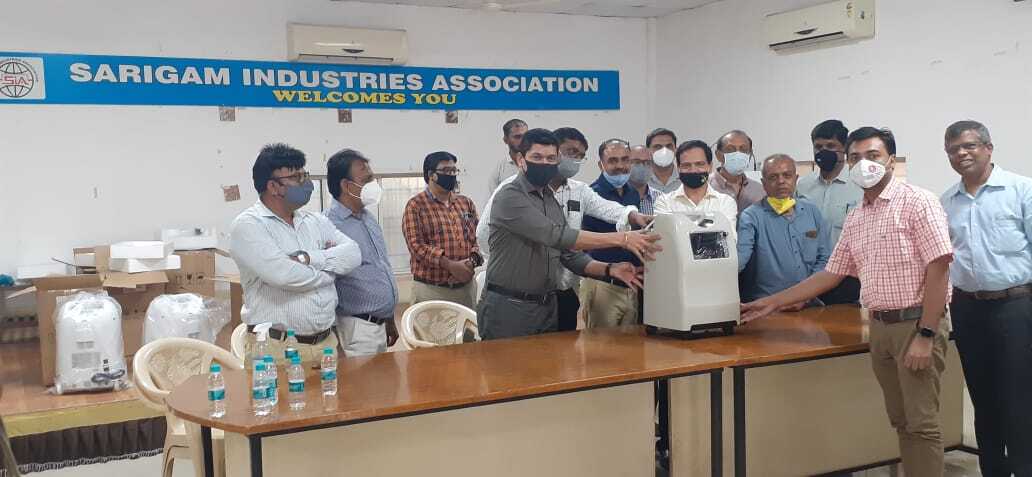 Donation of Oxygen Concentrators at Primary Health Centres in Sarigam on the occasion of Doctor's Day
Date: 1st July 2021
Since the start of 2020, the world has been grappling with the COVID-19 pandemic in waves of varying severity. Still, oxygen is the sole therapy for managing COVID-19-induced hypoxemia, as blood oxygen levels fall, organs and tissues begin to fail, and patients with severe COVID-19 must be urgently placed on supplemental oxygen. A devastating second wave of the coronavirus across India saw the daily demand for supplemental medical oxygen rising to roughly 12 times what was needed pre-COVID-19 times, with a catastrophic impact during March, April, and early May 2021. Several hospitals ran short of medical oxygen and sent out desperate appeals for oxygen on social media. This situation of oxygen shortage was a huge problem not only in cities but also in small towns and villages where the health infrastructure is already extremely weak.
In India, most of the oxygen producers are based out of the eastern regions of the country, while the soaring demand has been in cities in the western and northern parts of the country. The three largest consumers of oxygen in this period were Maharashtra, Gujarat, and Uttar Pradesh. Looking at the situation, Goldstab Organics Pvt. Ltd. decided to provide a small possible help to primary rural health centers in Gujarat on Doctor's Day. On 1st July 2021, Goldstab donated Oxygen Concentration Machines to the nearest Maroli PHC, Phansa PHC, Khattalwada PHC, Solsumba PHC Centre and Rotary Hospital Sarigam with the Sarigam Industrial Association. The oxygen concentrator machines concentrate the oxygen from air by selectively removing nitrogen to supply an oxygen-enriched product gas stream. This is a cost-efficient solution and an ambient source of oxygen. These are a safer, less expensive, and a convenient alternative to the tanks of cryogenic oxygen or pressurized cylinders.
The donation drive was headed by the Chief of Sarigam Industries Association Mr. V.D. Sivdasan along with ex-Chief Mr. Shirish Desai. The function was attended by Dr. Rupesh Gohil and many other doctors of above mentioned PHCs along with political delegates like Shamim Rizvi, Kaushik Patel, Sehul Patel and Virendra Bhat.