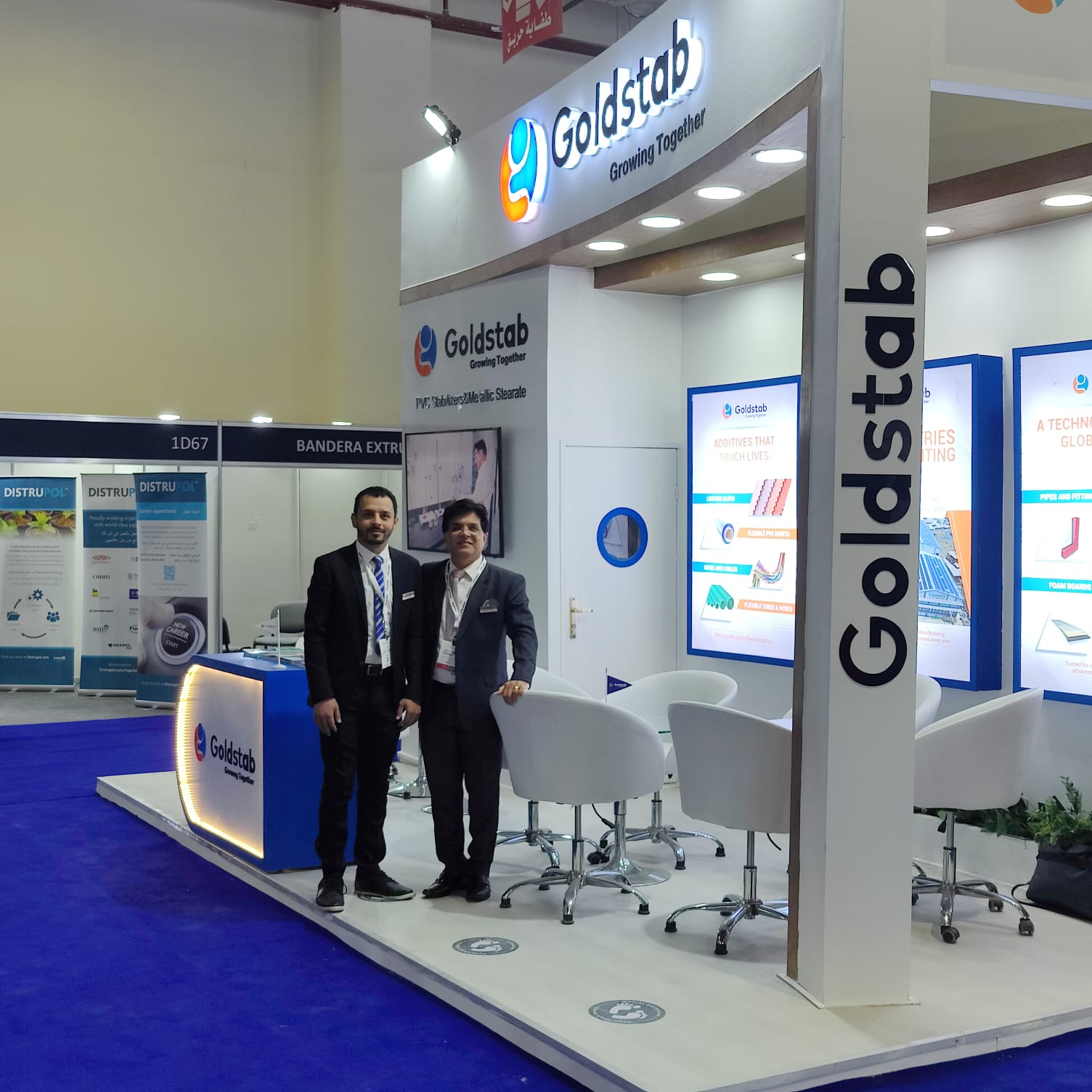 Goldstab Organics making a big-time at Plastex 2022, Egypt
The COVID-19 had brought a break to so many things from public gatherings to travelling. Now, after almost two years of cancellation and postponing the trade fairs have finally resumed. The year 2022 has brought new hopes filled with many new opportunities. Beginning from the Plastex 2022, the largest exhibition for the plastics industry in Middle-east and Africa, Goldstab took an opportunity to showcase its core competency, differentiated quality, consistent products and services.
The Plastex 2022 was conducted in Cairo from 9th-12th January, held under the Patronage of the Ministry of Trade and Industry and supported by the Chamber of Chemical Industries, the Division of Plastics Industries, and the Chemical and Fertilizers Exports Council. The event is one of the most influential meeting places for plastics and rubber companies in Egypt and North Africa and saw a host of companies participating from all over the globe.
It was the first time for Goldstab to participate in Plastex 2022 and we took great advantage of this opportunity to be present in Egypt along with other global players and establish our brand. With its 100+ million population, Egypt has the largest polymer market in Africa with 400K - 450K per annum of PVC resin. The Egyptian government aims to invest $1.2 bn to develop 11 new petrochemical projects between 2020-2023 which will push consumption up towards 2.8 million tonnes by 2022.
From Goldstab Organics, we had Hemant Parmar, Sales and Marketing Vice President and Walid Shaban, Regional Sales Manager (MENA) present at the Goldstab booth.
Hemant Parmar was ecstatic to see the response at the Goldstab booth. He said, "Plastex gave us the preferred base to discuss, meet, network & build sustainable relations not only with our preferred Customers but also with varied Suppliers and Manufacturers. Since Goldstab is taking a step in International League and to explore it further participating in such exhibition is a need of an hour to understand the respective region and make the mark."
Additionally, Walid Shaban stated, "Plastex 2022 was very beneficial for Goldstab as it allowed us to meet all our key accounts and distributor in Egypt 'closely' to understand their techno-commercial requirements and strengthen our business relationship and to put forward the suitable business strategies."
With this new step, Goldstab wants to make its presence strong in the Middle East and North Africa region and be a global thought leader in the PVC stabilizer market. Goldstab is ready to see you at the next Plastex in 2024 with a much bigger triumph.